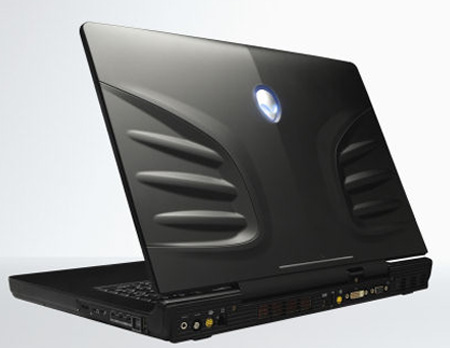 Today we bring you a review of our second Alienware gaming laptop, the Area-51 m9750. It should be fun seeing how Alienware managed to improve on the m9700 I tested back in June. You know it's going to be badass, so let's see if it's 'Darth Vader badass', or more like 'Anakin Skywalker in Episode III badass'.
Featuring an Intel Core 2 Duo T7600 processor with 1GB total graphics memory between the two NVIDIA GeForce Go 7950GTX GPUs and 2GB of RAM, you better believe this laptop will spank pretty much any other mobile system you put it up against. Let's see what's what!
Design
Portability

Measuring 15.65" x 11.75 " x 1.5" and weighing in at a very conservative figure of 8.50lbs, the m9750 is a little slimmer than the Aurora m9700 we had on the test bench a few months back. It's still a massive laptop, and probably not your first choice to lug on the subway. But, as everyone knows, these gaming laptops are more desktop replacement than anything else, so most people will be okay with the fact that this baby probably won't move too far from your desk.

Case and Design
I have to say that when I unboxed the m9750, I was a little disappointed I didn't get the same pimpin' color scheme from the previous model. I suppose the black is still cool, but not '1337' like the Conspiracy Blue m9700. A couple of cool things Alienware included with this new laptop are its claims that the finish is both fingerprint- and scratch-resistant. These are two pretty cool features, and though I didn't spend a lot of time purposely trying to scratch the laptop, I did notice that fingerprints weren't really all that visible.

Again like numerous other models, embedded in the lid is a raised alien head logo, with blue LEDs illuminating the alien's eyes. I'm still not a huge fan of the bright LEDs and wish there was some kind of switch to dim or turn them off completely. I guess it's not that bad if it's facing your wall and you can't see it sitting in front of the screen.

The laptop came boxed in what looked like a suitcase, complete with handle and Alienware logo on the side. My nine month old son took a particular liking to the Alienware shipping box and climbed on it whenever he could.

The build quality of the m9750 is suberb. No flexible or weak spots to be had the lid moved fluidly and closed without effort. The top of the laptop still sports the same 'gill' or 'rib' textured plastic as the m9700 did, but it is not as noticeable now that the m9750 is black.

Keyboard

The Aurora m9750 comes with a full size keyboard, including a number pad on the right, for a total of 99 keys. The keys were silent and depressed easily.

The m9750 also has a bunch of Instant Access Buttons. These include shortcuts for programs such as the Internet, E-mail, Windows Media Player, Power DVD, Windows Media Center, and also function keys for Play/Pause, Skip Forward, and Skip Backward.

Touchpad

The Aurora m9750's touchpad is of average size and consists of a scroll pad and one mouse button, though both left click and right click were supported depending on where you pressed. The touchpad kind of reminded me of a MacBook Pro, but with that whole new-fangled 'two mouse button' thing Apple is unaware of.

I didn't really care too much for the touchpad on the m9750. As many people already know, I'm not the biggest fan of touchpads to begin with (hello, Lenovo TrackPoint!) and this was no exception. As I mentioned earlier, Alienware made the laptop scratch- and fingerprint-proof, and to achieve this end, the laptop is covered with a texture that feels somewhat 'rubberized' for lack of a better word. This 'rubbery' coating also extends onto the palm rest and touchpad, making it fairly unresponsive and clunky, and overall very slow to move. As such, I liked the m9700's touchpad better.

Connectivity Options
The Area-51 m9750 has plenty of ports - pretty much anything you can ask for. Multiple USB, Firewire, DVI, VGA, S-Video, ExpressCard, Coaxial, you name it.

There are two speakers on the front of the laptop, the release latch, and the optical drive. Nothing too out of the ordinary here.

There's a lot going on in the back of the laptop though. From left to right we have audio in, coaxial (for the TV tuner), S-Video out, and modem right alongside the GPU vent.

Next we have the DC Power jack, a spare USB port, S-Video in, and something I found really cool- both DVI-D and VGA ports to ensure compatibility with any type of external monitor you could plug the m9750 into. Rounding things out is a second CPU vent.

The right side of the laptop is devoted mostly to audio related inputs, and includes a volume scroll wheel, headphone and microphone jacks, inputs for front, surround, and center speakers, optical, and finally another USB port.
On the left of the m9750, you will see the security lock slot, CPU vents, Ethernet port, two USBs, a Firewire IEEE 1394a port, memory card slot, and lastly ExpressCard. For the memory card slot, SD, MS, MSPRO, and MMC are the supported formats.
Normally we don't include detailed shots of the bottom of our review samples, but like the Aurora m9700, the Area-51 m9750 included a cool subwoofer mounted in the bottom casing. Neat, but, does it really accomplish anything? Didn't seem to, in my opinion.
Picture taken from Aurora m9700, but location is identical in Area-51 m9750
Design, Continued
Heat and Noise
The m9750 runs pretty quietly under normal circumstances, but when you start to stress the system, it can get pretty loud!
I ran a program called Orthos, which is based on Prime95, to stress the m9750 in order to see how hot you can expect it to get. Wow, was I surprised! I installed Intel's Thermal Analysis Tool (TAT) which is a pretty good method for measuring temperatures on Core 2 CPUs. When I started the TAT with the system at idle, I was surprised to see that each core of the processor was reporting 62 Celsius. That struck me as kind of high, but it wasn't until I began running Orthos that I truly saw how hot the m9750 runs. After one minute of running Orthos, TAT reported 80 Celsius. Within five minutes, we were up to 83 Celsius per core.
Click to enlarge
After ten minutes, I was averaging 85 Celsius per core

Click to enlarge
When it hit the high of 89 Celsius at the 11 minute mark, I stopped Orthos for fear of opening up the gateway to another dimension if I continued on. 89 Celsius! That is equivalent to 192 degrees Fahrenheit, or 20 degrees short of the boiling point of water. At this point in time, the system fans were screaming to dissipate all that heat, and the exhaust pouring out of the back and side vents was pretty hot. I do remember the m9700's exhaust as feeling much hotter than the m9750, though. One thing to give Alienware credit for was that even though the system was running super hot, I never felt that heat transfer through the palm rest or keys. One thing to also keep in mind is that you will never tax the system as much as Orthos or Prime95 does. This is just a test to see the theoretical high, not what you are likely to experience.
Upgrading and Expansion
Like most other manufacturers, Alienware allows you to easily upgrade RAM. If you haven't maxed out your hard drive configuration and have a spare slot, you can also add another drive.
If, on the other hand, you want to upgrade the CPU or replace the LCD if it breaks, you will need to completely disassemble the laptop. Video cards are what they are.
Features

Technical Specifications
The Alienware Area-51 m9750 is configured with Intel's Core 2 Duo T7600 mobile processor, which is clocked at 2.33GHz with 2MB L2 cache per core, for a total of 4MB. This processor has a TDP (Thermal Design Power, or maximum thermal output) of 34W and is a 65nm 'Merom' core CPU. It is Socket 479 based. I was very pleased to finally see a dual core processor in this laptop, as that was one of the main (and only) issues I had with the Aurora m9700.
The m9750 sports an Intel 945PM + ICH7M-DH chipset, and is equipped with not one, but two 512MB NVIDIA GeForce Go 7950GTX PCI-E graphics cards running in SLI mode for a total of 1GB of video memory. Built on a 90nm process with 24 pixel pipelines and 8 vertex pipelines per GPU, and core clock and memory speeds at 575MHz and 700MHz respectively, it does not get any better than GeForce Go 7950GTX SLI. You can expect amazing gaming experience, which I will elaborate on later in the review.
On the memory front, our m9750 was outfitted with 2GB dual-channel DDR2 at 667MHz, with 5-5-5-15 timings. Configurations start at 1GB and max out at 4GB.
Our m9750 came with 320GB of hard drive space in the form of two Seagate Momentus 160GB Serial ATA 3.0GB/s 7,200 RPM w/ NCQ & 8MB Cache in RAID-0. Hard drive performance seemed to be average, and not tremendously faster due to the theoretical speed boost from the RAID array. That said, these two drives were near-silent under normal operation. Alienware has a number of different hard drive configurations possible for every type of user. For users that want a single hard drive (no RAID), Alienware offers:
5400 RPM - Up to 250GB SATA with NCQ
7200 RPM - Up to 200GB SATA with NCQ
For someone who wants maximum capacity, there are dual hard drives in RAID 0:
5400 RPM - Up to 500GB (2 x 250GB)
7200 RPM - Up to 400GB (2 X 200GB)
So there's a maximum of 500GB you can toss in this sucker that's damn sweet!
The m9750 is equipped with a Realtek HD Audio processor which provides pretty good sound for a laptop. There are two speakers mounted on the front of the laptop base, and a subwoofer mounted in the bottom. I didn't notice any great bass improvement with this sub, but I didn't really expect to, seeing as the m9700 was the same way.
Not really a 'technical specification', but I feel it's worth mentioning- the default desktop. As with the Aurora m9700 before it, I was impressed with Alienware's completely barren desktop. It's really annoying to get a new system and have it all cluttered up with icons that you probably won't use anyway, like 81 different dial-up offers.
Display
The m9750's display is very bright and crisp, just like the m9700. The contrast is excellent, due much to the 'Clearview' glossy coating of the LCD. Native resolution was 1920x1200 (WUXGA), which in my opinion is slightly too high for this size LCD (17') for daily use. If you bought this laptop primarily to game though, you would be disappointed if you didn't choose the WUXGA resolution. I realized after a few hours of use that every day tasks such as checking email or writing a Word document were a little tougher than normal because I found myself squinting on occasion to see the screen. Alienware must have taken this into consideration because they offer a 1440x900 (WXGA+) resolution for those who may not game as much.
The glossy coating definitely improves contrast and sharpness, but at the same time, there are many times where the glare and reflection is just flat out awful (which is mostly when using the m9750 in areas with high levels of light). I found that the m9750's screen looked best when gaming at night, with the lights out. It provided a very immersing gameplay experience with no glare and rich color.
Features, Continued

Optical Drive
Alienware offers three optical drive options: a 24x CD-RW / 8x DVD Combo, an 8x Dual Layer DVD.